How Do I Live Stream a Wedding?
If you are looking to hire a professional videographer for your wedding, or if you're a production company looking to add weddings as part of your services, then read on.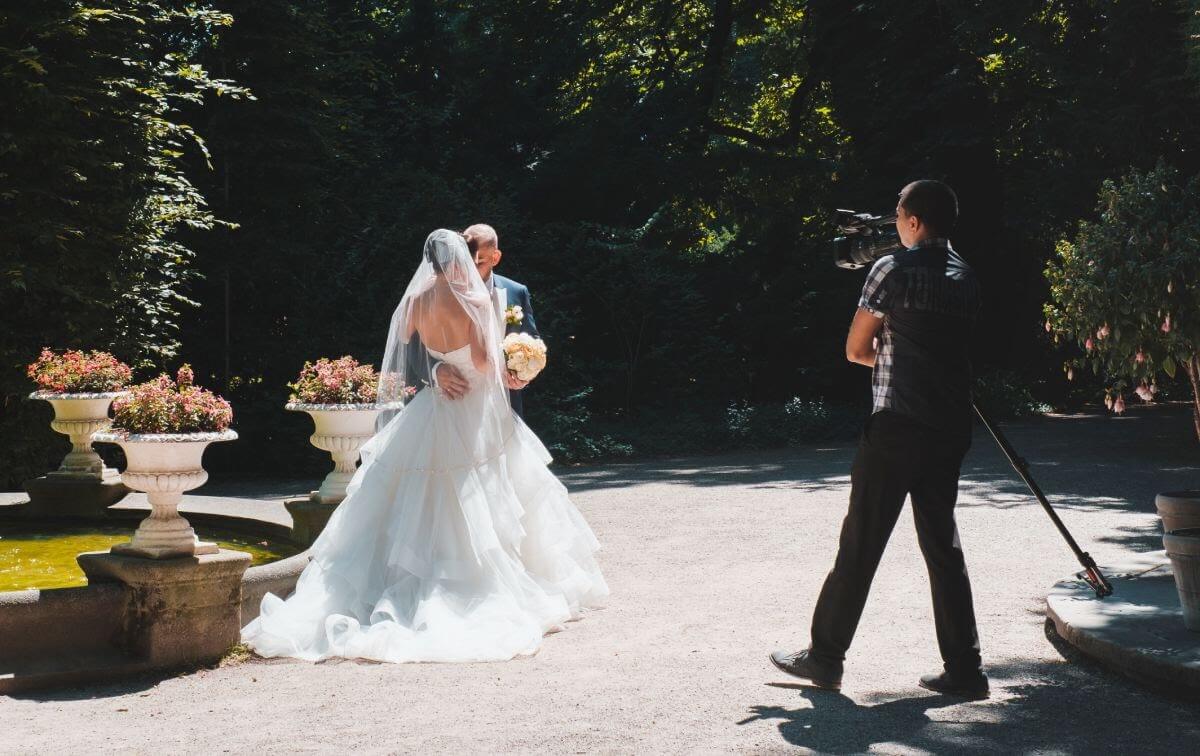 Live streaming your wedding – the new norm?
Filming your wedding is nothing new, whether it's been shaky camcorder footage from some of the guests, or hiring in a professional to do the job, people have always wanted to find ways to capture and record the special day.
In fact, on average people will spend between $1,500 – $2,000 on a professional videographer for their wedding. Though the major drawback to traditional wedding videos is that people won't get to see the footage until weeks afterwards.
But due to the increasing travel restrictions of Covid-19, brides and grooms are now looking to live stream their wedding so that extended family and friends can join in on the day, without actually being there. Not only do you have a professional video to treasure for years to come, but people can experience the moment there and then and actually feel part of the event.
In fact, searches around how to stream a wedding have increased by 131% since March to September 2020 and a staggering 600% since January.
A professional solution for weddings
If you're looking to create a professional live video of your wedding, using single or multiple cameras, TVU products can be used as a cost effective solution.
To get started you will need two things:
A live streaming app (TVU Anywhere), if you choose to film with your phone(s), or a TVU pack such as the compact TVU Nano video or the high end TVU One live transmitter if filming with a professional camera. 
A live video production platform, such as TVU Producer. This will allow you to receive multiple live feeds, mix the video/audio channels and output the video to social channels or anywhere of your choosing.
Filming with your smartphone will be the most cost effective solution and using your smartphone with the TVU Anywhere app has a number of advantages over using a service such as Facebook Live or YouTube.
The app can 'bond' multiple signals together, such as a 4G signal and Wifi signal, this means there is more available bandwidth and less chance your video will drop out mid-ceremony.
The app uses patented IS+ technology and HEVC encoding which compresses the video file, which results in better overall video quality and less pixelation.
But smartphones are inherently limited in their features and aren't designed for professional filming.
So if you choose to film with a professional camera you will need to use a professional live video transmitter such as the TVU Nano Video, or the TVU One if you are aiming for the highest video quality and live transmission.
This is essentially a step-up from the TVU Anywhere app. It allows from 5 to 12 data connections depending on your choice, meaning there's little chance of your live feed dropping out and your picture quality will be crystal clear (although bear in mind if streaming to social media, these platforms will compress your video which may affect image quality).
The TVU Nano Video attaches to any professional camera, while the TVU One comes in a backpack. Both are compatible with TVU Producer cloud production platform, allowing you to mix your video and audio feeds directly in the cloud – no software or hardware needed, just a laptop, internet connection and access to TVU Producer.
And that's it, that's all you'll need to create your perfect wedding live stream. Of course, this is slightly more involved than just streaming from Facebook, but the end result will be polished and professional and you'll be able to save the recording to watch at a later date.
To get to grips with our solutions, we're currently running a 20 hour free trial for TVU Producer, which can be claimed on signup and TVU Anywhere is free to download from the App Store or Google Play. We also have a demo video showing exactly how it all works.
Or if you're looking to hire a professional videographer, ask them about TVU solutions.
Our teams are on-hand and ready to answer any questions 24/7, so please don't hesitate to get in touch with us via our contact form here.
Like what you've read?
Receive insights and news to your inbox.