Remote Broadcast Solutions for Live Video Production
A live remote broadcast produced from a tv studio at home can be managed by a small team away from the main station. Today many in the media and entertainment industry have aligned themselves to manage production and broadcasting from any location.
In this guide, we will discuss what a remote broadcast is, how it works, and present the best solutions to create your own remote broadcast for live video production.
What is a remote broadcast?
Remote broadcasting is the distribution of audio and video content from a location outside of a traditional television station or tv studio. Remote video broadcasting is replacing the old standard television station hardware (live vans, satellite trucks, etc) with remote production solutions that allow for more flexibility and less capital investment to produce live content.
How does a remote broadcast work?
Remote broadcasts work through electronic field productions by a remote pickup unit. Traditional remote broadcast options include satellite trucks and even regular telephone lines.
Electronic news gathering has utilized analog and later digital microwave transmission, also satellite news gathering, and then later digital—and eventually wireless phone networks were able to complete a remote broadcast.
What is needed to broadcast live remotely?
You'll need a camera, mic or microphone, lighting, stable internet connection or cell service, and live streaming software. A graphics package and editing software is also a must to make your product look professional.
You also need access to software and streaming solutions to have the perfect live remote broadcast for streaming. Flexibility to produce content from anywhere is a must; many companies are relying on their content to live in a cloud-based producer these days. Here is a list of some of the best options out there.
Top Live Remote Broadcast Solutions for Live Productions
TVU Producer
TVU Producer is a cloud-based live streaming solution for live video production and live remote broadcasts. You can create multi-camera live streaming programs in minutes, include live audience interactions, and easily manage live video productions with low latency streaming. Add graphics, mix audio, and safely live stream on any platform with just a single click.
TVU Producer is used by both amateur producers and industry professionals to produce thousands of live events remotely. It also includes multi-camera live streaming, graphic overlays, video recording, and simultaneous output to social media platforms, CDN, and SDI for flexible content output. You can transmit live from any camera with a wide range of live video transmitters including TVU One IRL backpack and TVU Nano Video. TVU Producer operates with cellular bonding technology. Producers can receive the live feeds via TVU Grid and the TVU RPS.
Advantages:
Easily pair mobile phones or professional cameras by scanning a QR code. Add up to 12 feeds and switch seamlessly with zero latency
Move your remote video production to the cloud for a more agile workflow.
Invite unlimited guests remotely from all over the world
Stunning graphics overlays
Advanced audio mixer
In larger broadcast settings, networks find TVU to be compatible with other live signal formats allowing breaking news producers to have their pick of feeds, the more content the better!
Easy to log in and navigate, whether on desktop or mobile device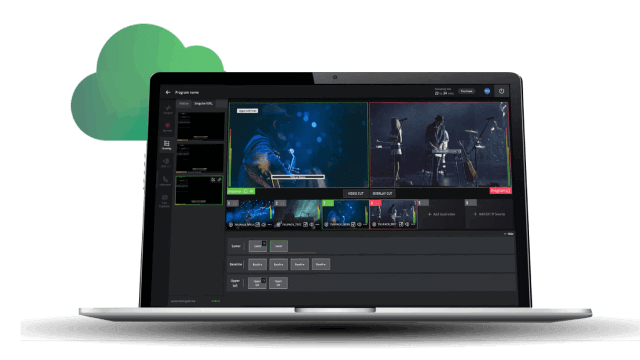 TVU Producer
Cloud-based Live Streaming & Video Production Platform
LiveU EasyLive
The LiveU EasyLive provides a live streaming production studio in the browser, allowing users to mix any type of content into live stream videos and distribute them to their audiences. All the tools needed to edit, mix and broadcast live streams are combined in the all-in-one user-friendly cloud solution, reducing production and equipment costs. It ensures the reception of all format types and their conversions for optimal management and redistribution to multiple destinations.
Advantages:
Centralize & manage all production from our all-in-one studio 100%cloud-based
Create one live stream and broadcast it on multiple platforms at once
Supports any sharing model
Share from anywhere without any limitations
Pre-configure your scenes, assign them a number or a letter on your keyboard and launch them with one click during your live production
Dejero Newsbook
NewsBook is designed for journalists, international correspondents, and field reporters that need to travel with minimal to no equipment—a small camera, video capture device, and a notebook computer. It's also a great solution for streaming live events from remote locations.
Advantages:
Has built-in FaceTime capabilities
On-screen status information including total throughput, latency, connection strength, and live transmission or recording time
Geolocate field units, preview feeds, route content, and monitor usage and performance using our cloud management system.
Technicians at the broadcast facility can adjust settings and troubleshoot so your field crew can focus on getting the shot.
Teradek's CORE
CORE is Teradek's cloud-based streaming management platform designed to simplify your IP video workflow. Any Teradek encoder is capable of streaming to CORE, giving them access to multi-destination delivery, remote configuration, monitoring and HEVC/AVC transcoding.
The Teradek Core platform allows configuration and remote control of Teradek encoders, decoders, and servers. However, no video streams are sent directly into or out of Core. The path taken by video streams depends on the operation mode — Standard, or Remote Management Only — that is configured on the device.
Advantages:
Remotely configure and manage Teradek IP video devices from a single interface.
Perfect for point-to-multipoint systems, or streaming to several Content Delivery Networks (CDNs) like Facebook and Youtube, Core has the capacity to support even the most complex IP video workflows.
Save all of your live content on Core or upload pre-recorded material for playout at a later time.
Boxcast Producer
Boxcast Producer gives you the ability to host hybrid and virtual events right from your web browser. Choose your layout, configure your screen, and share presentations, files, picture-in-picture effects, or other live content.
Brand and preview your broadcasts before going live. Producer comes with a variety of preset overlays and backgrounds. For a more personal touch, add lower thirds and brand colors. Or upload your own images if you have our Growth, Experience, or Premium plan.
Advantages:
No need to download an app or invest in expensive equipment — just use your web browser as an encoder and stream with a webcam or capture device.
Hybrid meetings and events using our Viewer Chat feature in Producer.
Producer is free to use with any BoxCast streaming plan.
Vimeo Livestream
Vimeo Livestream is a video live streaming platform that allows customers to broadcast live video content using a camera and a computer through the Internet, and viewers to play the content via the web, iOS, Android, Roku, and the Apple TV.
Advantages:
Adaptive streaming to viewers across devices even with limited bandwidth.
Video management to store content and monetize your video library.
Add lower-thirds, transitions, and logos, and engage viewers with moderated chat, Q&A, and live polls.
Less equipment as this platform is solely run on a website/cloud.
Haivision Hub Media Platform
Haivision is a global provider of real-time video networking and visual collaboration solutions.
Haivision Hub is a user video network service for managing appliances, creating low latency video routes, and orchestrating media workflows for live production and remote broadcast contribution. The platform offers real-time encoding, video routing, status monitoring, and stream optimization, all from a single browser window.
Advantages:
Broadcast quality live streaming
Intuitive user portal for presenting viewing and viewing from anywhere with an internet connection
Widely leveraged across industries for secure, live video workflows
Efficient video distribution across multiple enterprise locations and to remote employees
Conclusion
For the best quality product for producing remotely, TVU Producer is the best option and has the best flexibility for producers with the capability of 12 streams running on a single feed. TVU Producer's cellular bonding technology makes it the most reliable for keeping those clear and high-quality streams available to content creators and producers.
TVU also is compatible and able to work with both Mac and Microsoft products making it a great choice for stations and companies to take on. TVU producer easily pairs with your mobile devices by quickly scanning a QR code. The interface of TVU producer is user-friendly and also can be utilized remotely with ease.
Like what you've read?
Receive insights and news to your inbox.