FAST Streaming Guide – Create a FAST TV Channel
Now is the time to create your own FAST streaming channel. This guide helps you learn how to easily launch a FAST channel and manage it with the cloud-native scheduling and playout solution, TVU Channel.
Discussions
Cable Subscribers Moving To FAST Streaming Channels
Why FAST Streaming Is Important
Potential Revenue From High Ranking YouTube Creators Using A FAST Channel
FAST Channel Potential Revenue For Small Video Entrepreneurs On YouTube
FAST Streaming for Video Creators, Producers, and Distributors
TVU Channel & Free Ad-Supported TV Streaming
A Cloud Playout Built For All On-Air Functions
TVU Channel Provides Security For Business Continuity & Disaster Recovery
Launching and Managing A FAST Channel
TVU Channel Innovations and Benefits
Cable Subscribers Moving To FAST Streaming Channels
Free Ad-Supported TV channels, otherwise known as FAST channels, have received a lot of attention recently and with good reason. Traditional linear broadcasters have been cashing in on the skyrocketing number of people who want to ditch their cable TV subscriptions in favor of streaming video to their living room TVs or on the go on their smartphones and tablets.
The business model behind FAST channels is a familiar one for media companies. Build an audience with appealing video content –TV shows, movies, sports, news, and other typical linear TV fares—and sell advertising based on viewers—a pretty straightforward approach.
Free ad-supported tv streaming research from nScreenMedia released in August 2021 explains why media companies are making the jump to FAST. The researcher forecasts revenue for FAST vLinear (virtual linear) channels in the United States will climb from $2.1 billion in 2021 to $4.1 billion in 2023 when FAST Channel monthly active users will hit 216 million.
| | | | | |
| --- | --- | --- | --- | --- |
| Streaming Trend | Description | Revenue Model | Experience | Current Position |
| SVOD – Subscription Video On Demand | Unlimited Access, Monthly Fee | Recurring Monthly Subscription | Video On Demand | Most popular, becoming dull |
| TVOD – Transactional Video On Demand | Pay per Title | Premium/Exclusive Content | Video On Demand | Bundled as an upsell |
| AVOD – Advertising Video On Demand | Free Access, Ad-Supported | Based on Viewers | Video On Demand | Growing in certain demographics |
| FAST – Free Ad-Supported TV | Free Access, Ad-Supported | Based on Viewers | Linear TV | Growing in popularity |
At first glance, launching a FAST channel might seem best suited to large media organizations like NBCUniversal, Paramount Streaming, or even Amazon with its new market entrant IMDb TV. But that's not so.
Recent advancements in the tools needed to program and schedule a 24/7 FAST channel, such as TVU Network's TVU Channel, make it fast and easy for any individual or business with a content library to get started.
Why FAST Streaming Is Important
Consider the top 10 most subscribed channels on YouTube as of January 2022. Together, they have more than 1 billion subscribers with T-Series, a music channel out of India at the top of the heap boasting 209 million subscribers, and Vlad and Niki from Russia coming in at No. 10 with about 80 million.
While there are big media organizations on the list, there's also PewDiePie and MrBeast in the middle with 111 million and 91 million subscribers, respectively. What if any or all of these adopted a FAST TV streaming strategy in addition to their existing YouTube on-demand presence?
The ad revenue potential is staggering—but more on that later. First, a few FAST channel basics.
A FAST channel is what happens when appointment TV meets the internet. The channel is streamed for free and offers regularly scheduled programming 24/7. Unlike Netflix or cable TV, there is no subscription fee. Revenue is derived from ad sales. Unlike most of YouTube, the channel is linear, not video-on-demand.
FAST channel commercials appear on a scheduled basis as well—between programs and during one or two commercial breaks, for example. Commercial revenue can be significant.
Potential Revenue From Popular YouTube Creators Using A FAST Channel
Hypothetically, what if MrBeast could attract just 10% of his YouTube subscribers to watch a MrBeast FAST channel consisting of existing content and, perhaps, a regularly scheduled live show, just once a month? That would be 9.1 million subscribers per month or 303,330 a day.
A recent article in Influencer MarketingHub pegged the cost of a YouTube ad reaching 100,000 at $2,000. However, if MrBeast sold the advertising on a new FAST channel with existing content for the same price, he would stand to make more than $6,000 per day.
That's north of $180,000 per month from a single ad slot—with only 10% of MrBeast's YouTube subscribers. If six slots were sold per hour monthly revenue would be more than $26 million (6 slots x 24 hours x 30 days x $6,000).
FAST Channel Potential Revenue For Video Entrepreneurs On YouTube
Or, consider a small video entrepreneur looking to migrate existing on-demand content to a FAST channel linear TV format. If this small operator could attract just 1,000 viewers per hour and sell only a single ad slot each hour per day, the revenue is still a respectable $14,400 per month or $172,800 a year (1 ad slot x 24 hours x 1,000 average hourly viewers x 2 cents per viewer).
FAST Streaming for Video Distributors
Beyond the revenue potential, there are other important reasons for video distributors to jump on the FAST bandwagon.
Next to revenue, the biggest reason may be to take advantage of the "virtuous cycle," in the words of the nScreenMedia research, that's unfolding as more people look for free streaming TV alternatives to their cable TV subscriptions, revenue grows, programming becomes richer and more varied and more people jump in, starting the cycle anew.
FAST channels also give video distributors a way to innovate—specifically slicing the market into smaller pieces that serve the niche interests of a select group of viewers, such as home remodelers, wannabe chefs, or drone enthusiasts—or just as easily a mass audience. A FAST channel is a clean slate when it comes to innovating with program offerings.
Popular Genres On FAST Streaming TV Services
News
Tech
Sports
Pop Culture
Comedy
Action
Adventure
Animation
Cartoons
Drama
Arts
Lifestyle
Internet
Chill
Geek
Gaming
Kids
Music
There's also the ability to succeed, or fail, quickly. Both are important from a business perspective. Obviously, success is the goal, but if a channel is destined to fail, isn't it better to do so quickly and move on to the next great channel idea quickly without a massive investment in infrastructure and inventory?
TVU Channel & Free Ad-Supported TV Streaming
TVU Networks developed TVU Channel to address the scheduling and playout needs of media organizations and video entrepreneurs who distribute video content, whether as a FAST channel streamed by the internet or a traditional linear channel like a TV station or cable network.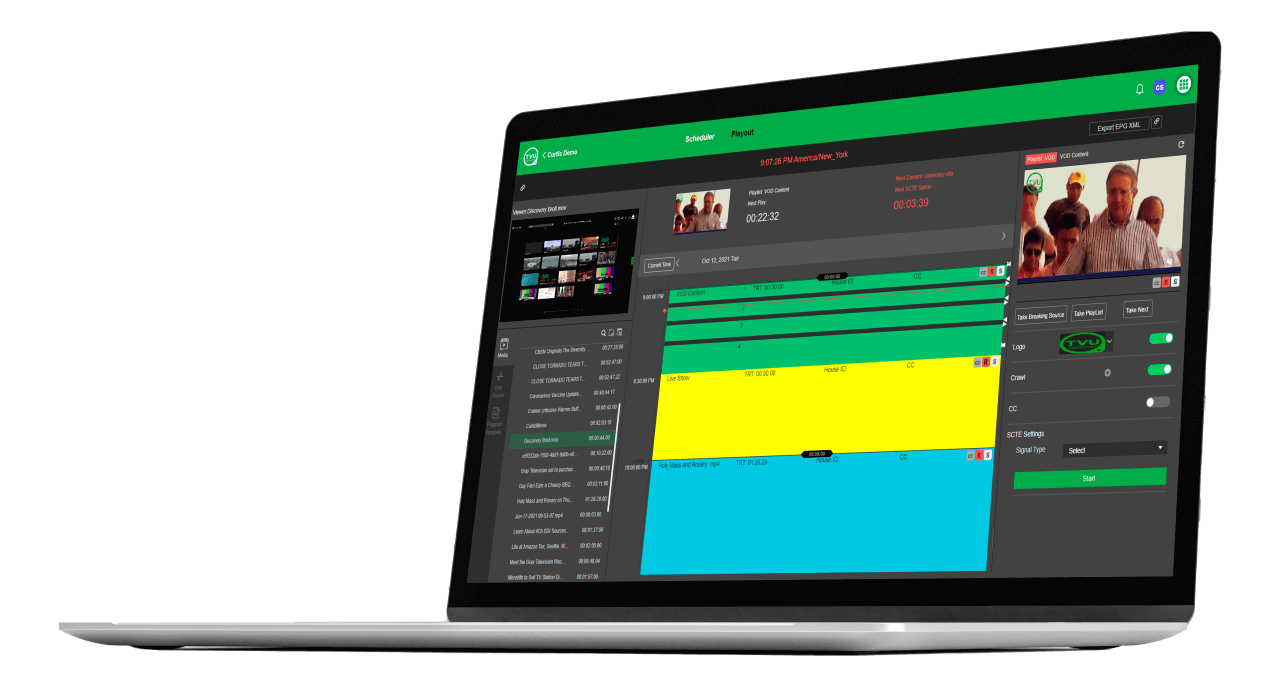 TVU FAST Channel
Create, manage and monetize FAST Channels
Introduced earlier this year, TVU Channel is a cloud-based virtual equivalent of the real-world playout technology used daily to build and play out linear TV. Its easy-to-use scheduler allows users to create playout schedules a day, a week, or months in advance for a 24/7 operation, precisely populating each day with programs, commercial breaks, promos, and public service announcements.
A Cloud Playout Built For All On-Air Functions
Having worked with major broadcasters in its design, TVU Networks included all of the other functions commonly used today on-air to deliver linear TV, such as:
support for SCTE markers for ad insertion
the ability to take live feeds to air as scheduled events
Insert live breaking news
scheduling and placement of overlays, such as text, ad, bug and other graphical elements, in a stable environment.
Beyond channel scheduling and management, TVU Channel leverages the cloud to play out video programs and other content reliably, thus eliminating the need for sizable capital investment in playout servers, video encoding hardware and other related video technology.
Multiple playout destinations are available, including all popular social media sites, CDNs, and even linear broadcasts. For FAST channel operators, this capability is particularly important because it offers a simple way to maximize distribution of their channels, grow audience and increase ad revenue.
TVU Channel Provides Security For Business Continuity & Disaster Recovery
Another benefit of scheduling and playing out from the cloud is security for business continuity and disaster recovery. Unlike many traditional broadcasters that have been the victims of recent ransomware attacks, FAST channel operators relying on TVU Channel can have confidence that their schedules and content stored in the cloud are protected by the billion-plus dollar investment cloud vendors have made to keep their clients' data safe.
Along the same line, scheduling and playout from the cloud means the physical infrastructure—a TV studio for a broadcaster or an office building or home for a small video entrepreneur—previously needed to maintain 24/7 operation is removed from the equation, thereby eliminating the threat of natural disasters and other circumstances that might take a channel offline.
It also makes possible remote scheduling of playout, another possible benefit in the event of an emergency or even a vacation.
Create a FAST TV Channel
Launching a FAST Channel with TVU Channel is fast and easy. From a Chrome browser, visit the TVU Networks Channel page and press Enter to enter the workbench. Click Create a Channel and enter a Channel Name.
Format FAST Channel Video Settings
Click the Format dropdown menu and select the format for the channel's video resolution and framerate. Click the + icon if adding a channel logo is desired and browse to the .png, .gif, or .jpeg file that's needed. Select the region or closest region where the channel headquarters is located from the Region dropdown menu.
Manage Video Content
Now it's time to create specific folders for content. The Show Folders Field offers the tools to organize media by typing in relevant folder names. Type as many as are needed, separating each with commas and no spaces. Creating more as needed later is always possible from the Workbench.
Click the Broadcast Day Time dropdown menu and enter the hours of the broadcast day for the channel. Finally, click the Save button, and the channel has been created. It is now ready to program.
Build A Broadcast Schedule
Building a playout schedule for the channel is just as simple. To begin programming, return to the Workbench, click on the channel's name on the top left of the screen and click the vertical ellipse button in the top right corner to open the Settings pop-up window.
Click Scheduler at the top of the window and click the Media tab in the left panel. The customized folder structure created when setting up the channel will display. Click a folder and select a file. Drag the file into the calendar panel and drop it into the desired playout date and time.
Create A Program Schedule Template
Repeat this process for each date and time when that piece of content should play.
If a program is part of a normal recurring schedule, create a program template. Templates simplify scheduling when the day's programming will be repeated.
To create a template, click Scheduler at the top of the window. Click on the date from which to make a template. Click the calendar icon to the right of the selected date. Type in a name for the template and click the OK button.
Add The Schedule Template To Your Calendar
To add a schedule template to the calendar, click Scheduler at the top of the window. Click the Schedule Template tab in the left panel. Select the desired schedule template from the file list and drag it to the date on the calendar where its use is desired.
(More information on executing these and other functions, such as doing an ad hoc live insert into a program schedule as it runs are available from the TVU Channel webpage. Helpful how-to videos are also available there.)
TVU Channel Innovations and Benefits
TVU Channel is the product of a guided re-think of the linear TV channel scheduling and playout process. Directed in part by helpful input for several well-known broadcasters, TVU Channel delivers the scheduling and playout functions they need to keep some of the best-known television channels and networks on air.
However, TVU Channel recasts the process as a cloud-based solution that accomplishes those task with simplicity, a far lower-cost model, greater security, business continuity, disaster recovery, and more operational flexibility than was possible using on-premise technology.
For FAST channel entrepreneurs, TVU Channel breaks the cost barriers that have prevented many from previously considering streaming a linear TV channel. For $2,000 per month, breakeven is within easy grasp of nearly any content distributor with a good idea and content.
TVU Channel also grows out of the work TVU Networks has done creating an entire cloud-based ecosystem of professional video alternatives to real-world equipment, addressing professional live production (TVU Producer), communications and remote collaboration (TVU Partyline) and even sports commentary play-by-play and color (TVU Commentator).
Of course, programming a FAST channel requires video content, and to take full advantage of the monetization possibilities, a sales staff will be needed. However, TVU Networks Support Team offers help here, too.
With its growing library of live content resources from around the world and a new sales mechanism in place that takes all of the headaches of managing ad sales out of the equation for video distributors, launching a successful FAST channel has never been easier.
That's great news for any video entrepreneur who looks to cash in on the virtuous cycle that's developing as the public increasingly turns to FAST streaming channels for a free alternative to their TV subscriptions.
Like what you've read?
Receive insights and news to your inbox.