Broadcast Scheduling Solution for Media and Broadcast: TVU Channel
When it comes to broadcast scheduling in television, it's linear, and that means a channel—whether it's delivered over the air, via cable, IPTV, or streamed as Free Ad-Supported TV (FAST) — must be programmed with a schedule of back-to-back pre-recorded shows, live programs, commercials, promos, and public service announcements.
What is Broadcast Scheduling In Television
Linear TV is appointment TV for viewers, who must know or be able to find out "what's on" and "when it's on," so they can make their appointment to watch fit into their daily schedule.
TV networks, local channels, cable networks, and other such broadcasters have a long history of delivering linear content and an equally long history with well-established and understood technologies and workflows to schedule a channel.
Traditionally, the traffic department, which has nothing to do with roads, rail, or airways but does specialize in a flow of a different sort—builds a log of the pre-recorded programs, commercials, promos, PSAs, and live programs, such as newscasts and sporting events, for a day, a week or longer and hands it off to an automation system.
The automation system in turn executes the program log of scheduled events, playing back content from a playout, or a control system of video playout servers.
A master control operator rides herd over the process and is at the ready to ensure playout proceeds as scheduled, insert weather bugs and logos, keep an eye on the quality of the signal being distributed and manually handle cut-ins for breaking news and scheduled live programs.
History of Scheduling Broadcasts
Within the past few years, broadcast scheduling, playout and master control have migrated to broadcast scheduling software and playout using PCs equipped with the inputs and outputs to execute program schedules.
The main advantage of this broadcast scheduling software and playout approach, broadly known as "channel-in-a-box," is its relatively low cost, especially when compared to the traditional tv scheduling and playout workflow.
Even before channel-in-a-box software-based systems and traditional proprietary automation systems and playout servers, massive pick-and-place robots actually retrieved video cassettes of each program event, placed them into available video cassette players and took the needed signal to air before switching to the next event in another robotically fed tape machine. Really quite a marvel to watch.
Before that, feeding cassettes into machines was done by humans. Even today, humans have their fingers in the final execution of the schedule with a master control operator.
All of these people required over the years, whether they were master control operators, traffic department personnel or playout staff, how they worked and the technology they used delivered reliable, scheduled linear TV channel playout.
The vast majority of the time over the decades the workflows and technologies these people used kept channels to their schedules and ultimately made the broadcast cash register ring.
Tech and Broadcast Programming Evolution
If TV and technology have one thing in common, it's that neither stands still for very long. New technology frequently opens up the possibility of greater efficiency, cost savings and improved performance.
New programming, especially the distribution paths in play for that programming, offers new channel monetization opportunities and better ways to satisfy viewers' desires to be informed and entertained.
Recently, both technology and program distribution have taken their next evolutionary steps, which coincidentally put them on a shared path involving the cloud.
When it comes to linear TV programming and its distribution, FAST channels are the new rising star with revenue projections exceeding $4 billion for 2023.
When it comes to the technology of broadcast scheduling and playout, the cloud is where it's at as well.
Virtualized 24/7 television scheduling and playout from virtualized video servers in the cloud are making fast work of tv scheduling and playing out any FAST channel. This also offers a traditional broadcaster smart alternatives or synchronized backups to existing broadcast scheduling and playout infrastructure and workflows.
Advantages of Cloud-Based TV Scheduling
Cloud-based scheduling and playout is straightforward. A media organization like a TV network or station or video entrepreneur launching a FAST streaming TV channel, uploads and organizes programs, promos and other content in the cloud and creates a schedule for playout of that content. In the former instance, can feed existing distribution paths to viewers, like a transmitter or a cable TV headend, or in the latter stream over the internet to viewers via websites and social media.
Cloud Playout vs Playout Software
In some respects, cloud playout & broadcast scheduling share many advantages of software-based channel-in-a-box solutions but without the downsides.
For example, like software-based scheduling and playout, the cloud is affordable, in fact far more affordable because there is no capital outlay other than the computer needed to log onto an instance in the cloud. Other aspects they both share are the ability to insert live programming, pre-recorded programming and commercials as well as playout programming on a precise schedule and add logos, graphics and text on-screen.
Cloud-based Scheduling Protects against Cyber Threats
However, unlike the cloud, these software-based systems offer a redundancy strategy that is limited, whereas the alternative in the cloud can leverage a theoretically limitless number of servers and processors in the event of a hardware failure.
Channel-in-a-box scheduling and playout is also susceptible to the same sorts of cyber threats and natural disasters that can take out traditional on-premise scheduling and playout.
Media organizations reaching the end of life of their channel-in-a-box software-based scheduling and playout systems will find transitioning to a cloud-based alternative is straightforward because their existing workflows are quite similar to working in the cloud.
For instance, rather than saving video files, graphics and other assets in the on-prem software-based system, organizations simply push those assets to similar file structures in the cloud. Other commonalities include how playout schedules are built and edited as needed as well as the interfaces used.
Broadcast Scheduling Solution for Media and Broadcast – TVU Channel
TVU Networks recently introduced TVU Channel, a cloud-based schedule and playout alternative to the expensive, purpose-built scheduling and playout software and hardware traditional media companies have used for years.
A Low-Cost Alternative To Create & Schedule a Channel
Rather than requiring the hundreds of thousands of dollars these media companies typically have paid to buy the on-premise systems used for scheduling and playout, TVU Channel is offered on a subscription basis, providing a low-cost alternative that can serve as a backup running in parallel to an existing scheduling and playout workflow.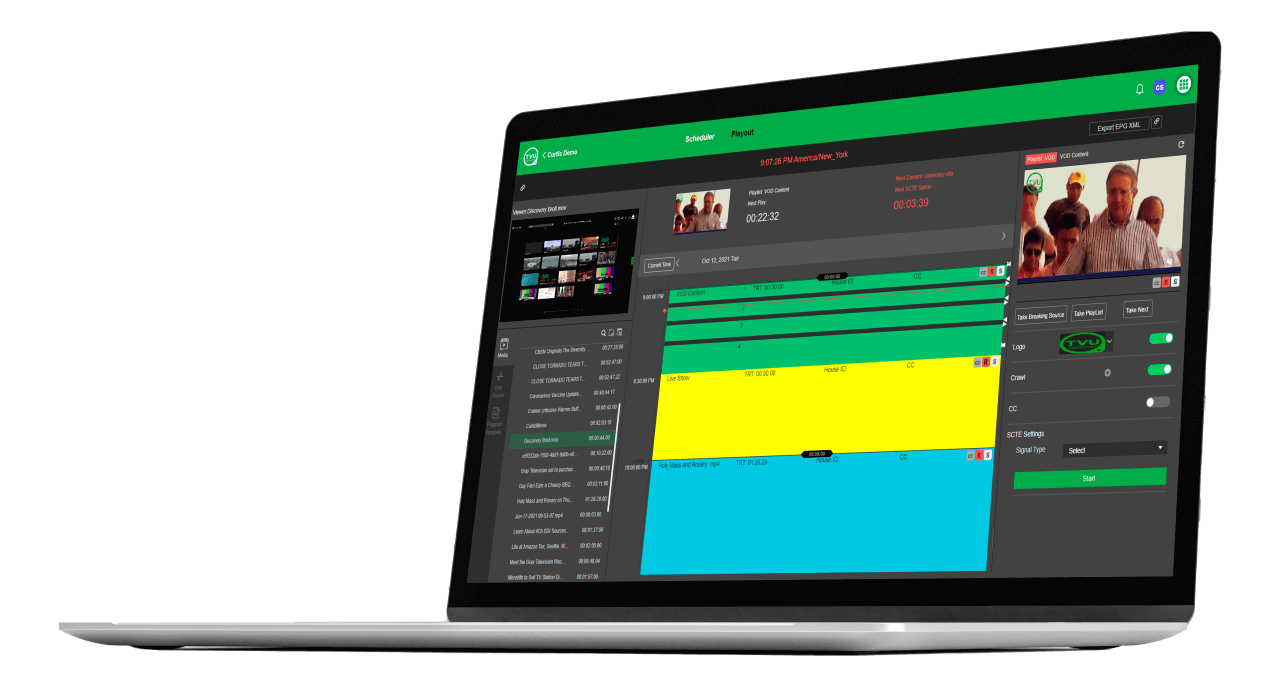 An affordable way to create a tv channel and spin up temporary channels as needed or a fully featured solution for video entrepreneurs looking to reduce costs where possible and stretch their operating funds.
Simple Playout Workflow with Advanced Playout Features
Beyond optimizing investment in scheduling and playout, TVU Channel enables broadcasters and others to avoid setting up complicated workflows that require substantial training to master and frequent refresher training as new revisions of software become available. TVU Channel is extremely simple to use and thus learn.
It's no more complicated than using a calendar app for personal or professional scheduling. It's so simple to learn, multiple people can easily master using TVU Channel and work together on scheduling a channel, if desired.
As a cloud-based solution, TVU Channel enables those co-workers to be geographically spread apart—as long as these colleagues have an internet connection and a laptop computer to log into their organization's instance of TVU Channel running in the cloud.
Optimize Disaster Recovery & Business Continuity
Enabling scheduling and playout off premise also makes TVU Channel a sensible and effective way to optimize disaster recovery and business continuity. 
Regardless of whether the threat is a ransomware attack on tv networks that could shut down a hardware/software-based on-premise scheduling and playout system or a natural disaster like a hurricane or earthquake that could severely damage a studio or even the roads workers rely upon to get to it, TVU Channel is immune.
As a cloud-based alternative accessible from anywhere with an internet connection, TVU Channel offers a reliable means to maintain playout—even in the face of a disaster.
Launch & Schedule a Channel in Minutes
It's also fast and easy to launch a new channel with TVU Channel. From a Chrome browser, users visit the TVU Networks Channel webpage and create a new channel or log into an existing channel. TVU Channel enables users to set up the channel's format, including resolution and frame rate.
To prepare TVU Channel for broadcast scheduling, a user creates various folders for content and uploads video programs, PSAs, promos, commercials and other content to their appropriate folders.
Users then access those assets to build a broadcast day of any length, thereby supporting the round-the-clock scheduling requirements of a mature media organization as well as the limited broadcast day of a video entrepreneur just starting out.
Create a Program Schedule in TVU Channel
To build a program schedule, users access the customized content folders they've already set up and begin dragging the desired media file—whether it's a program, a promo or some other content—into the calendar and dropping that media at the desired day and time for playout.
Repeating this process makes fast work of populating an entire day, week or longer with programming scheduled to playout when desired.
Create Schedule Templates & SCTE Markers
With TVU Channel's schedule template feature, users can quickly create a schedule template to make it even faster to insert recurring programming into the playout schedule.
TVU Channel also can insert SCTE markers to trigger ad playout from third-party ad servers, if required, at the precise time needed and makes quick work of inserting live programming breaks into the playout schedule.
Conclusion
The move from on-prem scheduling, playout in the cloud is proving to be an attractive alternative for storied media organizations, video entrepreneurs starting up channels and others looking to reach an audience with a linear TV channel, regardless of the distribution path.
With virtually no capital expense required, its low monthly subscription price, the reliability and safety of cloud asset storage and the ability to be accessed and controlled from anywhere with an internet connection, TVU Channel is changing how local broadcasters, TV networks, cable networks and video entrepreneurs take their channels to air. TVU Channel is the smart alternative.
Like what you've read?
Receive insights and news to your inbox.